On Sunday March 1, 2015 members of  WPPC -Mass gathered at Donna and Alan Beaulieu's home Reading MA.
"Boodle" items (toiletries, food, snacks, clothing, magazines, books, etc… ) was collected and packed into individual boxes and shipped to our Massachusetts WP graduates currently serving in the US Army and deployed overseas.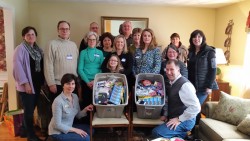 If you would like to show your support for our deployed troops….
Click here to make a donation – you will be able to specify what you want your donation to benefit.