The West Point Parents Club of Massachusetts recently welcomed 28 New Cadets for the Class of 2019 and their families to the extended family of the United States Military Academy.
The Welcoming Event was initially to be held Sunday June 21, 2015 at Dean Park in Shrewsbury, but due to weather challenges, St. Mary's Church in Shrewsbury was very hospitable to the WPPC-MA.  Fourteen new cadets and fifteen families attended the event.  USMA Cadets Iaonnis Wallingford '15, Ryan Burke '17, and Luke Beaulieu '18 corralled the cadet candidates for a question and answer session.  Many of the cadet candidates appreciated Beast details and suggestions.  Steve Wallingford, Paula Burke, Patti MacDonald, and Alan Beaulieu at the same time assembled the parents and provided insight with the transition to life as a parent of a USMA cadet.  Paula Burke was instrumental with her raffle items signaling information points.  The WPPC-MA is most appreciative to the Army A Club for the donation of tickets to the       Sept 19, 2015  Army West Point vs. Wake Forest football game.  The USMA 1969 Affiliation Class representative David Hayes and the West Point Society of New England liaison Wayne White made official presentations to the cadet candidates.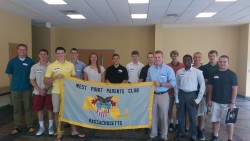 An Ice Cream Social was held at the Bedingfield home, family of New Cadet James Bedingfield.  The event was on Saturday July 18th in coordination with the New Cadet Ice Cream Socials being held at USMA on Sunday July 19th with phone calls from the new cadets.  Six USMA 2019 families attended this informal event.  Experiences and recommendations were shared among the plebe and other cadet families in attendance.  The Bedingfield's won the raffle for the USMA 2019 T shirt.