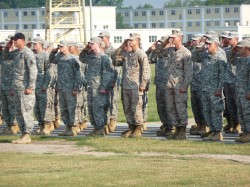 REQUEST FOR HELP FOR OUR TROOPS SERVING OVERSEAS
The West Point Parents Club of Massachusetts will be collecting items for care packages that we will mail to our deployed grads in Iraq and Afghanistan and other local service men and women serving overseas.
Below is a list of care package suggestions and ideas. Monetary donations are also very much appreciated. These contributions are used to offset the significant cost of postage.
You can either use the PayPal button above to pay by credit card.
You can make donation by check by contacting  Kathy Ouellette  (wppc-ma Treasurer) at…
FOOD ITEMS:
Coffee bags (like Folgers coffee singles).
Individual packages of cereal, cookies, and other snacks (Rice Krispy treats, Chex Mix, Dried Fruit, etc.
Please no bagged chips (mostly air) Pringles work.
Candy and gum (this time of year, even chocolate ships ok) Granola bars, Power Bars, Breakfast bars.
Individual size snack packs or canned goods (soup, tuna, chicken, fruit, etc.).
Oatmeal, Nuts, Ragu Express. Instant Soup (Cup-o-Noodles, Ramen, etc.).
Beef and Turkey Jerky. NO PORK ITEMS.
PRACTICAL ITEMS:
Baby Wipes (soft packs are best).
T-shirts, Socks, Underwear.
Towels and washcloths.
Eye Drops, Contact Lens Cleaner.
Chapstick/Lip Balm. Sun Block. Hand Lotion. Baby Powder/Foot Powder.
Combs and/or Brushes.
Cotton Balls/Q-Tips.
Liquid Hand Sanitizer.
Breath Mints.
Nail Files.
Moleskin or blister packs.
Throat lozenges.
Fleece blankets.
Hand and feet warmers (used by skiers).
Toothpaste, mouthwash, and dental floss.
Ointments – such as bactine, anti-itch creams, neosporin, hydrocortisone.
LEISURE ITEMS:
Batteries [AA Batteries (or whatever fits in any small electronics they may have taken)].
Blank greeting/holiday/birthday cards.
Games, Puzzle books.
Frisbees, Hackie Sacks.
Squirt Guns.
Jump Ropes.
Phone Cards  ATT only.
Nerf Balls.
Whiffle Ball and bat.
Travel size electronic games.
Letters or cards of encouragement!
MEDIA
Magazines, Paperback books.
Music CDs and DVD Movies.
The most popular requested items are new or gently used X-box, PlayStation, and
PlayStation 2 video game systems as well as DVD movies.
NO X-RATED MATERIALS THAT COULD BE CONSIDERED PORNOGRAPHIC. NO RELIGIOUS MATERIALS.
Please bring these items to a West Point Parents Club activity.
Or for pick-up or mailing, contact:
Richard and Margaret Primack, Grad Activities
16 Stiles Terrace
Newton, MA  02459
617.332.1684
857.636.8378 (cell)
primack@bu.edu